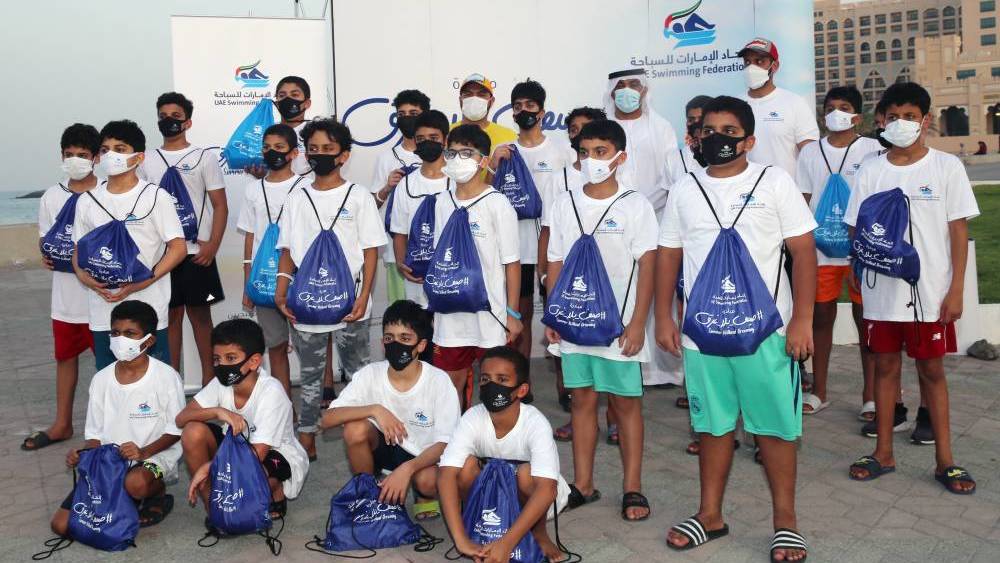 11 Jul 2021
The 'Summer Without Drowning' initiative is launched in Fujairah
The beaches of the Emirate of Fujairah witnessed, on Friday, the first activities of the 'Summer Without Drowning' initiative, which was recently launched by the Swimming Federation, in cooperation with the Sports Authority, the Olympic Committee, the Sports Councils, the Ministries of Interior and Education and the State's municipalities, which aims to educate families and swimming practitioners, of the importance of monitoring children while swimming. Their presence on beaches and swimming pools; In order to protect them from drowning, especially at the level of young people and children, as a result of neglect and leaving young children alone.
The event, which received good participation from the Sunni groups and their families, included awareness lectures, in addition to distributing many gifts in kind to the participants and the public.
Khalifa Al Kaabi, a member of the Board of Directors of the Swimming Federation, stressed the importance of such initiatives, which contribute to enlightening families about their supervisory role in following up on their children, and providing means of safety for beach and beachgoers, noting that the events will continue weekly to include all emirates of the country, and the next event will be in the Emirate of Umm Al Quwain, Next Friday, he pointed out that the media and 'Social Media' will focus on the awareness process, expressing his thanks to the Fujairah Police General Command for contributing to the success of the initiative.
Obaid Ahmed Al Kaabi, Vice-President of the Arab Diving and Rescue Federation, and the first rescue coach at the state level, praised the "Summer Without Drowning" initiative, which gains importance from the fact that it addresses the largest segment of society, in order to preserve the lives of our young children and children, noting that there are no Standards determining the percentages of lifeguards, and he appealed to the Sports Authority and the Swimming Federation to impose controls in this regard, that the appointment of lifeguards should be through the Federation, as the competent authority concerned with swimming.
---